US announces new sanctions against Iran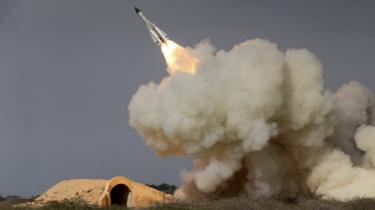 The Trump administration is imposing sanctions on Iran following its recent ballistic missile test.
The US Treasury Department announced the measures against 13 people and a dozen companies on Friday.
President Donald Trump tweeted earlier: "Iran is playing with fire - they don't appreciate how 'kind' President Obama was to them. Not me!"
But Iran has said it will not yield to "useless" American threats from "an inexperienced person".
Some of the newly sanctioned groups are based in the United Arab Emirates, Lebanon and China.
The measures come a day after President Trump said "nothing is off the table" in dealing with Iran.
But Iran's Foreign Minister Mohammad Javad Zarif tweeted on Friday that the Islamic Republic was unmoved by US threats.
He said Iran had no intention of using its military against any country, except in self-defence.
"Will never initiate war, but we can only rely on our own means of defence," Mr Zarif wrote.
On Thursday, a bipartisan group of more than a dozen US senators wrote to Mr Trump, urging "full enforcement of existing sanctions and the imposition of additional sanctions on Iran for its ballistic missile program".
"Iranian leaders must feel sufficient pressure to cease deeply destabilizing activities, from sponsoring terrorist groups to continued testing of ballistic missiles," the group wrote.